Meditation on The Possibilities that Seem Hopeless in Every Rotation
, 2006, shockwave animation, porch swing, smoke machine, florescent blue lights, bubble solution and wiggly eyes, mobile pod designed by architect
Kyu Che
Detail: Meditation on The Possibilities that Seem Hopeless in Every Rotation, New Langton Arts, San Francisco.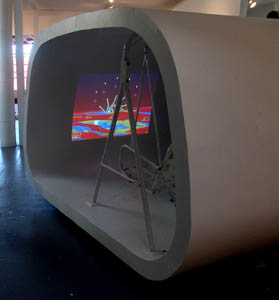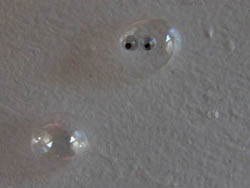 This installation was a part of a New Langton Arts exhibition entitled "Five Habitats: Squatting at New Langton". Guest curators selected five artists to occupy five rooms on a weekly rotation. The rooms were designed by architect
Kyu Che
. Anne Walsh curated my work into week three along with Sergio del la Torre, Leo Estevez, Pete Nelson, and Julia Page.